That's right… 
The full novel of Cargo 3120: Ties that Bind is finally here. While more retailers will carry the book in the coming days and weeks, the first two major retailers: Amazon and Barnes & Noble have all three versions available now!
Hardcovers are now available!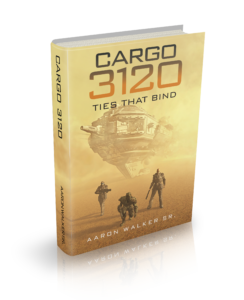 You heard that right when we said "All three versions…"
In addition to the Paperback and eBook versions we announced in our last newsletter, we added Hardcovers to the launch! So, be sure secure your copy today. These beautiful hard covers make excellent gifts for the sci-fi book lovers in your life.
A word from the Author...
Greetings,
So far, the book launch is going well. And I was thrilled that we were able to make the hardcovers available at launch. Again, I want to thank all of our readers for your support over the years. And a big thank you to our publisher, Author Reputation Press, LLC, for making this book launch happen.
With that said, here a few quick updates:

Rest assured, there is more Cargo 3120 to come. Starting in early august, we will be hard at work on the second book in our ongoing series.  Our goal is to put out at least one book per year (hopefully around August). And with our top-notch creative team, I'm confident that we can make that happen.
Our goal is to build a fanbase not just in the United States, but internationally as well. To that end, I had an interesting advertising opportunity that I believe will help increase our visibility beyond the US.
Here's how it happened…
One Sunday morning, about a week after I tweeted the cover reveal, the folks at Dr. Who Online (the official fan page of the popular British Science Fiction television series, Dr. WHO), reached out to me via their verified Twitter Account (@DrWhoOnline). Apparently, they saw the cover and description of the book and felt this would be of interest to their fanbase.
Fans of Dr. WHO turn to the Dr. Who Online website for not only news about the show, but recommendations for novels to read as well. Long story, short, they recommended I advertise the book on their website at launch.
.
Of course, I said: Yeah, having been a fan of Dr. Who since I first started watching it on BBC America several years ago. I would never have even thought to advertise on their fan page had the gentlemen that runs the site not contacted me. So, a big thanks to the good folks at Dr. Who Online for reaching out!
To give you an idea about Dr. Who Online, here is what they explained:
"Our site, Doctor Who Online (www.drwho-online.co.uk) is 25 years old this year and gets over 35,000+ daily visitors, has over 130,000+ Twitter followers (@DrWhoOnline), over 125,000+ News page subscribers and over 49,000+ Forum members."
Let's face it, advertising is a necessary expense if you're serious about increasing visibility of your product. The key is making sure you advertise in the right places. In our case, we are introducing our sci-fi book series to the world. So, what better place to advertise than a site that has a major science fiction fanbase?
I'm excited to say that the ads are now live on their home page, competition page, and in their Newsletter! I am sure this will help reach sci-fi readers domestically and overseas.
Well, that's all for now. As always, we will keep you updated with any major developments going forward.
Be safe out there!
Aaron Walker Sr.